Genetic lineage & DNA Workshop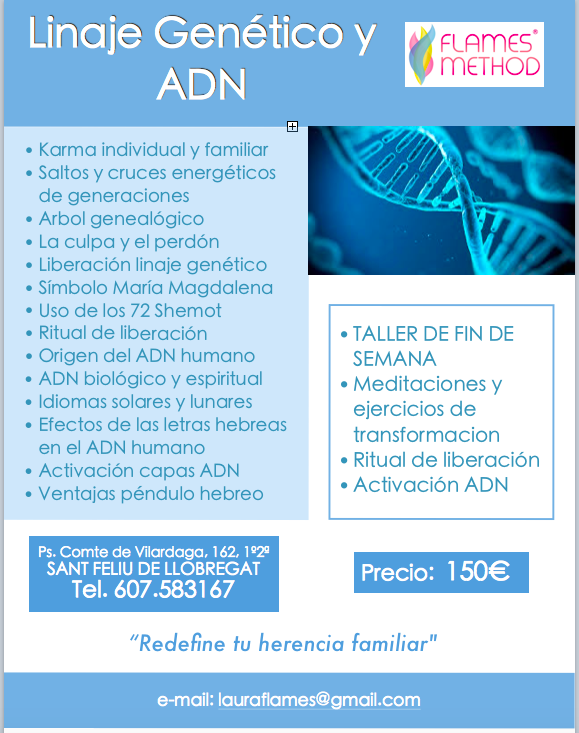 TWO-DAY WORKSHOP of transformational work to liberate the genetic material inherited from ancestors about family karmic memories and to activate the layers of the DNA that can reveal the hidden potentials and talents of the human being. With indoor and outdoor activities at Collserola Park.
You sense that there are pending issues in your genetic linage that may be affecting you.
You want to release negative energy that slows down your processes and projects and to activate your positive energy to reveal your potential.
You have detected repetitive patterns in your family tree (health, prosperity, behavior, destinies…) and you don't want them to affect you anymore.
You are aware of the enormous burden that you carry from your parents or other ancestors and you want to set yourself free from it.
You want to understand how family karma works so that you can release it it and heal the family tree from its root.
You've heard of the DNA layers activation and you want to deepen into it.
Individual and familial Karma and reincarnation
Leaps and energetic crossings in generations
Understanding the Family tree
The role of guilt and forgiveness
Genetic lineage liberation
Mary Magdalene's symbol usage
Using the 72 Shemot
Liberation Ritual
Cleaning and release of Elementals in Nature
Cutting with the past with bird feathers
Spinal deprogramming
Origin of Human DNA
Biological and spiritual DNA
Solar and Lunar languages
Hebrew letters effects on human DNA
Activation of DNA layers with Hebrew letters
Information about the Hebrew pendulum
You'll be explained the concepts related to individual and family karma and you'll get tools to release the genetic linage and to activate the DNA layers.
You'll work on your family tree and do meditations and exercises to find out and heal different aspects of your genetic linage.
A ritual of liberation will be performed. Shamanic elements will be used to cut with the past in nature (Collserola).
You'll experience an activation of the DNA layers using the Hebrew letters.
The workshop will be taught by 2 therapists, co-founders of the Flames Method® and trained in different disciplines.
Bring your family tree and all the information you could collect on quirks in your genetic lineage.
Liberation ritual and shamanism to cut with the past of your family inheritance.
Outdoor activities (Collserola Park) to help the ejection of negative elements at your lineage.
Work with symbols, Hebrew letters, Shemot, meditations and exercises to liberate family karma.
"Redefine your genetic inheritance and empower yourself"
You'll understand why you have so much responsibility in releasing your family karma.
You'll learn to activate your DNA layers to release more darkness and activate the light that empowers you.
You'll contribute to cut harmful patterns and difficult destinies in your family that affect you.
You'll clear the way for your projects to become a reality.
You'll understand certain energetic trusses that happen in your family.
You'll learn to honor your lineage and make peace with it.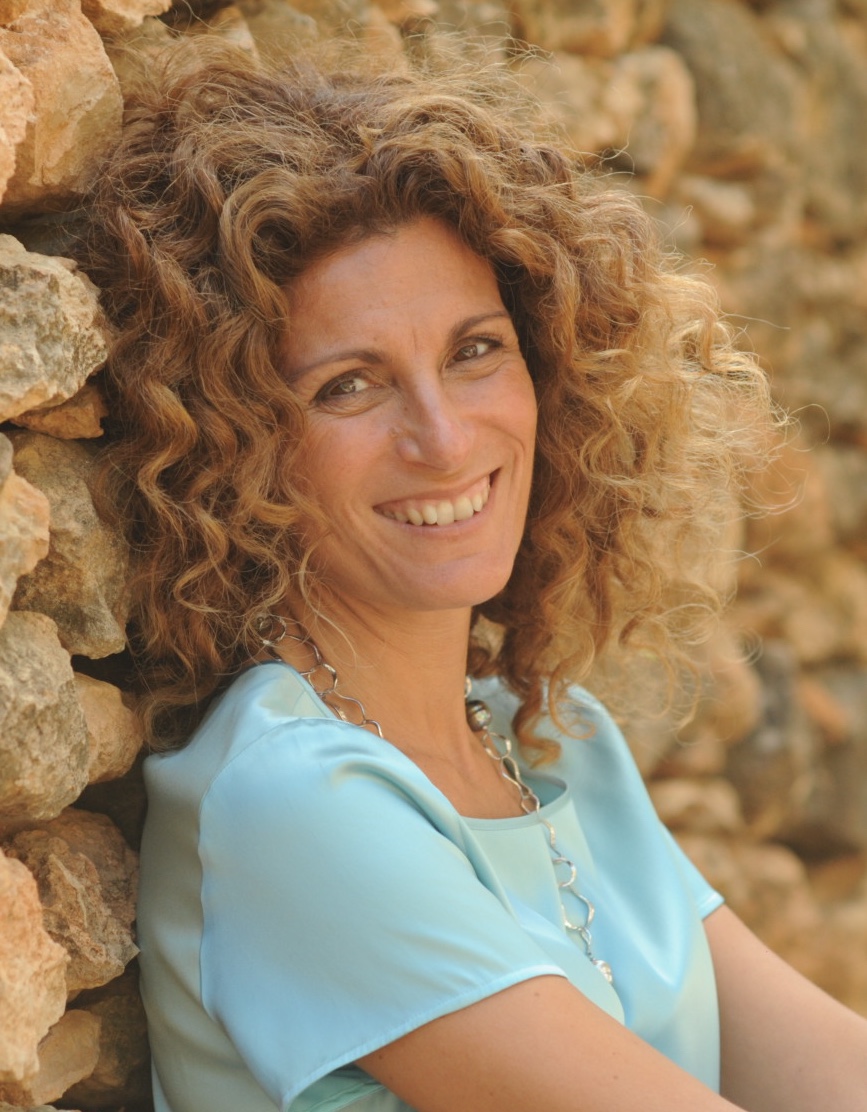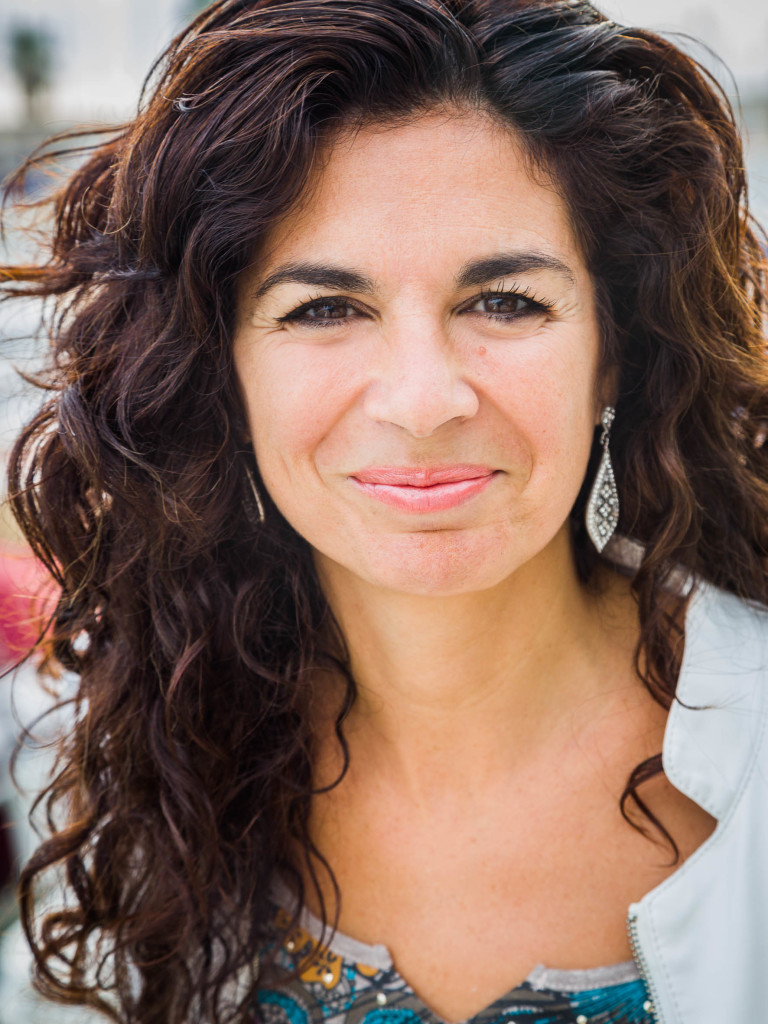 Laura and Mónica Flames are co-founders of the Flames Method®, Reiki teachers, Aura-soma, Matrix Maestra® and Hebrew pendulum  practitioners and use techniques such as shamanism, the 72 Shemot and DNA layers activation.
Laura Flames is an Ataraxia and regressive past life therapist, spiritual hypnotist and Divine constellations facilitator.
Mónica Flames is Kinesiologist, art-therapist, Crystal Bell and Temprana reflex-Therapy therapist for brain damage and dysfunction.
Together they have designed this workshop to carry out a thorough work of releasing the family lineage and to assist more directly the attendants  of this workshop in the different exercises and activities to perform.
"You need to understand the importance of honoring your family lineage and making peace with your ancestors, understanding the place you occupied in your family tree in past lives so as to cut off everything that nowadays prevents your life from shining fully. Then your ancestors will join forces so that your future may shine as you deserve and as honors them".
Do you dare to leave behind your family past and empower yourself?